McCartney and Morrissey: a match made in heaven?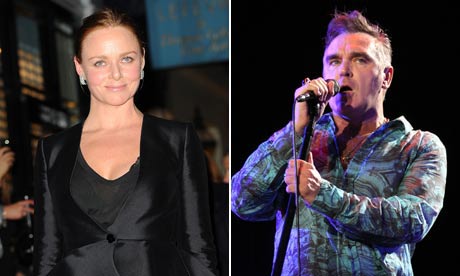 What's the best designer collaboration of all time?

We heard something amazing this week. And when we say amazing we're not talking vaguely interesting water-cooler conversation about X Factor Olly's tight, shiny trousers. We're talking earth-shattering, jaw dropping, 'I've found life on Mars'-type news. See if you can guess who it's about from the following quotes (although the picture and the title of this piece MIGHT have given you a clue):
I do maintain that if your hair is wrong, your entire life is wrong. (1984)

As I grew up I used to love stationery and pens and booklets and binders. I can get incredibly erotic about blotting paper. (Star Hits, 1985)

Yes I have had a tan, actually. I went to Los Angeles and got one there, but it didn't make it back to Britain. You're not allowed to come through customs with a tan. (i-D, 1987)


Oh, the wit! It could only be that super vegetarian and songster of high renown, Morrissey (or Mozza to those who adore him and are too lazy to say his full name). And the big news is that APPARENTLY he is teaming up with Stella McCartney to produce a range of vegan footwear.
We're finding the whole thing quite hard to believe. Especially as Stella was also said to be in talks with warbling vegetable - sorry, we mean vegetarian Leona Lewis (who we couldn't give two hoots about), but this turned out to be just a rumour. Now we're praying to all the gods on our radar - currently Zeus, Buddha, Shiva and the Almighty - that the same is not true of the McCartney-Mozza collaboration.

According to the blogosphere (I think that's the first time we've used that word in Fashion Statement), the footwear will be leather-free (nothing that died with a face, we assume) and they hope to launch it next year. Stella's known for refusing to use leather in her collections, but Mozza has not had quite such a clean track record, as we were helpfully informed by Grazia:

"Despite being a staunch supporter of animal rights, the singer was often spotted wearing leather and suede footwear, and once said of his favourite shoes, (a pair of suede moccasins that were a gift from Pete Burns) 'I find shoes difficult to be ethical about - one just can't seem to avoid leather. One is trapped, ultimately.'"
Trapped, like a wild bear, caught in the barbarous toothed grip of an iron clamp, perhaps. Unable to break free from the allure of a soft, foot-cushioning animal skin … the poor man.

Despite his shady past, Mozza was honoured at Peta's 25th anniversary celebrations in 2005, where he was awarded the Linda McCartney memorial award for acts of kindness towards animals (one of which including calling for a boycott of the entire country of Thailand because of its mistreated elephants).
Anyway, we're expecting great things from the man who came 45th in GQ magazine's best-dressed chart, and the woman who single-handedly brought us the boyfriend blazer.

We'll leave you with a verse from Mozza that we're sure Stella will appreciate as she slices into her nut roast Yule log this Christmas.

And the calf that you carve with a smile
Is murder
And the turkey you festively slice
Is murder
Do you know how animals die?

(From Meat is Murder)